$17.99

ISBN: 9781534111516
Availability: On Our Shelves Now
Published: Sleeping Bear Press - April 15th, 2022
We all know Helen Keller's story--but what else do you know about her? Did you know she was an activist, a rebel, a performer, a romantic... and so much more Most stories about Helen Keller focus on the story of her deaf-blindness and scholarship, but there is more to Helen than her disability.
---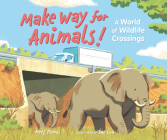 $19.99
Not available at this time
ISBN: 9781541589384
Published: Millbrook Press (Tm) - April 5th, 2022
Around the world, city highways and country roads have cut through natural spaces. Wild animals are blocked from the resources they need to survive, or must make dangerous crossings across busy roads to get to them. Fortunately, solving this problem has inspired some creative solutions Take a tour of wildlife crossings across the globe, from grassy badger bridges to underpasses for elephants.
---